A Poem about Oliver
My name is Oliver and I am three,
And just as happy as can be.
I get to go to work with Mom,
It's there I keep the office calm.

You may see me in a tote
And think that it is quite a joke,
But if I might, I must confide
At times it's easier just to ride

But if you see me on the street...
Watch out where you put your feet!
I'm just a little short you see,
Please be careful! Don't step on me!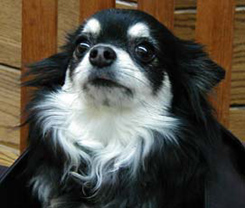 **